Hiking
Are you passionate about hiking and want a short, easy routing so you can admire the nature? We can recommend you a few beautiful areas, only 30 minutes driving.
Saua Joaca, (Joaca Lap), a pass in Piatra Craiului, the place from where you have a spectacular view over the peak, in front you have La om Peak ( Piscul Baciului), the highest peak from Crai. The red house that can be seen at the base of the mountain is Grid Refuge, built near Negru Voda Lodge, situated a few meters up and destroyed by the avalanche in 1953. In order to get to Saua Joaca ( Joaca Lap) you will drive up to Casa Folea (Folea House) from Pestera Village, and then walk on a country road, among Toanches and Coja Mountains to Saua Joaca.
http://www.pcrai.ro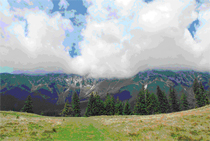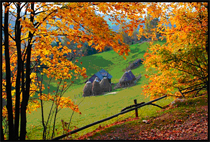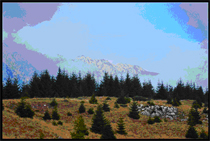 Cabana Curmatura, the perfect place for a one day hike. You can serve a meal at the lodge, on the terrace from where you have a beautiful view over Zanoaga Glade, Magura Village and in the backround is the West Peak of Bucegi. You can also take pictures with two beautiful dogs, Sira and Max, the furry owners of the lodge. You can drive to Botorog Fountain and then you walk through the woods. Or, if you wish, you can go up through saddles and when you go down, you will choose the shortest routing, through Zanoaga Glade- Botorog Fountain.
http://www.pcrai.ro
If you want a few hours walk, we reccomed Valea Poarta ( Poarta Valley). You can drive, in a few minutes the 5 kilometeres to Bucegi Natural Park entry, then you walk near Poarta River, on a forest path among trees and giant rocks covered in green moss. After one hour of walking, you will reach Ciubotea Mountain Rescue Refuge, the point from where it starts the 6 hours routing to Omu Peak.
Image Gallery
Photos with interior and exterior of the pension
Free Bikes
Included in the accommodation price
Bran Moeciu Tourism
Touristic objectives